Dumbbell Racks for Home Gyms
Cap Barbell makes some inexpensive, but sturdy equipment racks. I recently purchased 2 Cap Dumbbell racks for my home gym in order to make it more organized, and wanted to write a short review.
I have had a home gym for over 20 years, but always had my dumbbells lined up on the floor which was working fine for me. When Covid-19 came along and the local gyms all closed, my daughter and her husband wanted to use my gym as well. I was thrilled to see it getting used by more than just myself, but I wanted to make it even nicer. I finally decided to invest in some dumbbells racks and other things to better organize the space.
How Many Dumbbells Does the 3-Tier Rack Hold?
One of the reasons you might like to read this review is so you will know how well your dumbbells will fit on the dumbbell rack. When I purchased my first one I had no idea how many of my dumbbells were going to fit on the rack nor how many more racks I might need.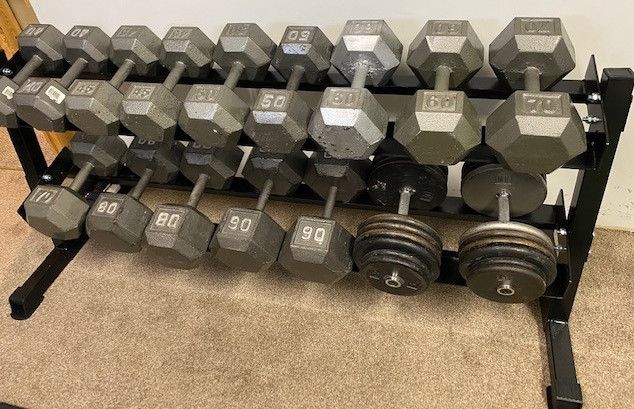 It turns out that the Cap Barbell two tier rack and the Cap Barbell three tier rack together were able to almost exactly hold all of my dumbbells. I have dumbbells ranging from 5 pounds to 100 pounds but I don't have every 5 pound increment. In other words I don't have 55, 65, 75, 85, or 95 pound dumbbells.
If you look at the picture, the 3 tier rack will hold 5-35 lb dumbbells in 5 lb increments with a little space leftover. I was able to squeeze in a pair of 3 pounders as well. If you have rubber coated dumbbells, they are slightly larger so it will be a tighter fit but there is plenty of room for those. The 24″ width of the 3 tier rack does not make a good fit for the larger weights. I was only able to fit 3 dumbbells on each shelf, and that wasted too much space.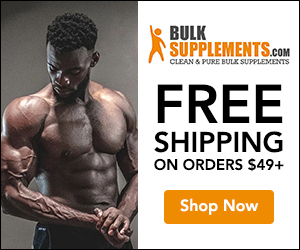 How Many Dumbbells will the 2-Tier Rack Hold?
The 2 Tier rack will also hold from 5-50 pounds, but I opted to use it for all my larger dumbbells since the 3 tier rack did not work out for the large dumbbells.
The first two tier dumbbell rack that I ordered almost got to my house but then somehow was damaged and returned to Amazon. After getting a refund and re-ordering, the second one did make it to my house although the box was torn up pretty bad. Amazingly, the rack was intact and all the parts were there!
Are Cap Dumbbell Racks Sturdy?
When I decided to order a dumbbell rack on line from Amazon, I was a little concerned that it would not be sturdy enough to hold all of my dumbbells.
I was wrong about that. It appears to be extremely sturdy and is going to work out just fine. As you can see in the pictures, I recommend using the three tier rack for the smaller weights due to the fact that only three of the larger dumbbells will fit on one shelf which just doesn't do it for me!
Cap Dumbbell Rack Assembly
The assembly of the racks is quite easy and straight forward. There really isn't that much to them. You will need a couple crescent wrenches or a couple 17 mm sockets in order to assemble them. All of the nuts and bolts on both rack are the same 17 mm size so that makes it a bit easier.
Cap Dumbbell Rack Conclusion
I highly recommend Cap Barbell equipment in general, and these racks are no different. If you have a home gym and not a ton of money to spend, these are right in your ballpark. If you are a super strong power lifter that throws around 100 lb dumbbells as a warm-up, then you may need some commercial grade racks for your equipment!