You are probably wondering where can you find the highest rated protein powders?
Protein powders are everywhere these days. If you have been using them for a long time like I have, you have seen the prices increase every year.
Every product you look at says it is the best, so how do you know what you are actually getting for your hard earned money?
How much should you pay for a good quality protein?
You will pay anywhere from 43 cents to $1.00 per serving for the good stuff, maybe $1.00 to $1.72 per serving for the GREAT stuff.
I recently discovered a company that is not very well known because they do not advertise as aggressively as most of the bigger, more expensive brands. You won't find this brand on the shelves of your local health food store either. as far as I can tell, they only sell on the internet, and this is one reason they are so much less expensive, yet have a top quality product.
Check them out at  MyProtein.com powders, and you will save a boatload. Their prices are extremely aggressive.
I will usually wait for a sale or promotion (they have a 35% or 40% off promotion going on almost all the time) when I buy protein, and then buy 6-10 pounds at a time to get the best deal.
How do you know if you are getting a good deal on the highest rated protein powders?
One way to know is to look at how many grams of actual protein you are getting in each serving. This will reveal the purity of protein in your particular brand.
In this article I am only looking at the purity, or percentage of actual protein.
Purity is simple to calculate, just divide the grams of protein per serving by the serving size to get your purity percentage.
For example, if your protein shows a serving to be 31 grams, and the protein per serving is 24 grams, 24 divided by 31 equals .77, or 77% protein. The remaining 23% is going to be sweeteners, flavorings and other ingredients. Needless to say, the higher the percentage, the more protein you are getting for your money.
My research shows that the quality of proteins can vary from as low as 69% to as high as 90% pure!
I looked at several dozen of the most popular protein powders sold on Bodybuilding.com (they pretty much carry every brand there is, and at very competitive prices) and it was pretty hard to find protein powders that were more than 80% pure.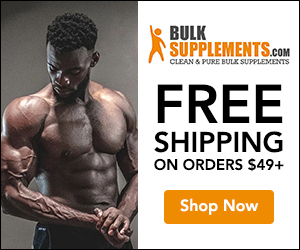 The majority of the best sellers came in between 70-80% pure.
Here is a list of the highest rated protein powders that are at least 80% protein
These are ranked by purity from some of the biggest names in supplements. Purity calculations unless otherwise noted are based on Vanilla flavor. (The purity percentage will sometimes be very slightly
different on other flavors, and the variance is typically a couple percentage points.)
The price points listed are non-sale prices at Bodybuilding.com unless otherwise noted.
The 5 highest rated protein powders:
Purity 90% protein.
 This came in with the best purity score. 90% is hard to find! ALLMAX has several protein powders but Isoflex is the purest, made of only ion and ultra filtered whey protein isolate.

The best quality protein I could find.
Available 1,2 and 5 lbs.
10 delicious flavors
Cost: 5 lbs $1.17 cents per serving.
Purity 84% (unflavored)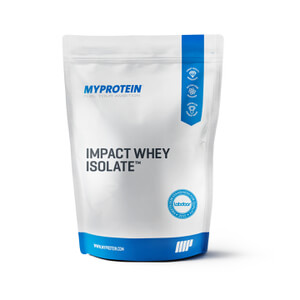 MyProtein is a company that makes a large variety of protein powders. Known for high quality and low pricing, this Isolate came in second with 84% pure protein content.
Available in 2.2lbs, 5.5 lbs and 11 lbs.
Grass-fed whey
Cost: 11 lbs 48 cents per serving. (outstanding price!)
Coupons and sale pricing available.
Purity 83%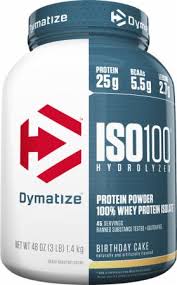 The highest performer in the Dymatize lineup, the main ingredient in ISO 100 is hydrolyzed Whey protein isolate. I have used this powder and the chocolate flavor is fantastic. ISO 100 is also available in 11 other indulgent flavors.
Only 1 g sugar per serving
Cost: 5 lbs 99 cents per serving.
Available in 1.6, 3 and 5 lbs.
Purity 81%
Natures Best Isopure Zero Carb protein has been around for a long time, and they were one of the first companies to produce a clear protein powder (when mixed with water). One of the reasons the purity is a little lower than other protein is because is is loaded with vitamins and minerals. This is not a bad thing, but personally, I want my protein powder to be, well, protein powder!
Lots of flavors
Available in 1,3,5 and 7.5 lbs
Cost: 7.5 lbs $1.72 per serving. (pretty steep)
#5.Highest rated protein powders: MyProtein IMPACT WHEY PROTEIN 
Purity 80% (unflavored)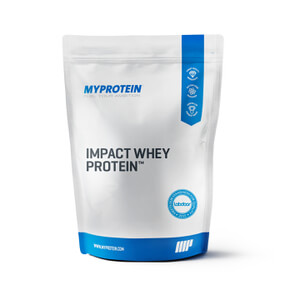 Another fine product at less cost than it's Isolate version. This of course translates to lower purity. Probably the best protein for the money if you are on a budget.
Available in 2.2 lbs, 5.5 lbs and 11 lbs.
Grass-fed whey
Cost: 11 lbs 43 cents per serving. (Great deal!)
---
Highly Rated, but not quite as pure protein
The next few products below are most of the mainstream popular whey
protein powders you will see advertised online and in all the muscle
magazines. These came in at between 70 and 80% pure.
Purity 77%

This the whey protein I have used for almost 20 years. This is a quality, yet affordable protein and has been the best selling protein for many years. I usually buy it online in the 10 lb bag when it is on sale.
Great taste
Lots of flavors
Whey Protein isolate is the first ingredient
Available in 1, 2, 3.5, 5 and 10 lbs.
 Cost: 10 lbs: 77 cents per serving.
Cellucor COR-Performance Whey Protein
Purity 77%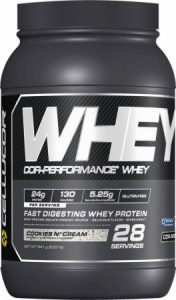 Gluten Free
Available in 1, 2 and 5 lbs.
Cost: 5 lbs: 86 cents per serving.
MuscleTech NitroTech 100% Whey Gold
Purity 77%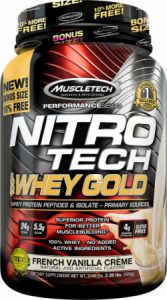 Available in 2.2 and 5.5 lbs.
Cost: 5.5 lbs: 76 cents per serving.
BPI Sports ISO HD Whey Protein
Purity 76%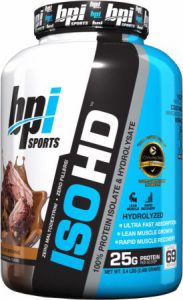 Available in 4,10,23 and 69 servings (weird)
Cost: 69 servings: 87 cents per serving.
Now Ion Exchanged Whey Protein
Purity 77%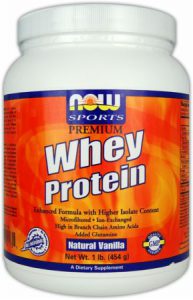 Available 1 lb.
Cost: 10 servings: $2.13 per serving. (outrageous)
BPI Sports Best Protein
Purity 71%
Available in 1,2,4.5 and 5 lbs.
Cost: 5 lbs: 78 cents per serving.